Geroskipou - the village of beautiful gardens, historical sites, and scrumptious sweets
Geroskipou, the coastal village near Paphos, is located on the hills where the gardens of Aphrodite grew long time ago. The word Geroskipou means "the sacred garden" - this name was given to the village by the pilgrims, who travelled to the temple of Aphrodite. Geroskipou still reminds a lovely blooming garden. You can get to this wonderful place with our taxi in Paphos.
Popular sites in Geroskipou, Paphos
The most popular tourists destinations in Geroskipou are the Church of Agia Paraskevi and Folk Art Museum.
The Church of Agia Paraskevi (Saint Paraskeva) is a Byzantine temple built in the 9th century BC. The building is unique and beautiful, it has 5 domes and a high chapel. Inside the church is decorated with old paintings and frescoes. Nearby there is a underground cave with a spring well. According to legends and beliefs, the water from this spring is healing and refreshing.
Geroskipou Folk Art Museum is a local history museum, housed in an old and beautiful 18th century building. It contains a great collection of Cypriot folk arts objects, different everyday items, work equipment, etc., and some of these showpieces were made 00 or more years ago. There are also special expositions that demonstrate the interior of rustic huts.
Also in Geroskipou there is a small, but clean and beautiful municipal beach, and also a tiny amusement park.
Lokum, locus tree honey, anogyras and other traditional sweets of Cyprus
Appart from flowering gardens, unique temple and local history museum, the village of Geroskipou is known as the place where the most delicious lokum (Turkish delight) is made. This traditional dessert is prepared using sugar, corn starch, gelatine, fruit or berries juice, chopped almonds, pistachios and coconut. Some exotic ingredients can also be added, such as rose petals or cuttlefish ink.
In 2004, the candy-makers of Geroskipou prepared a huge locum, weighing more than 2.5 tons. The confectioners spent 3 days to make such a giant Turkish delight, which earned a spot in the Guinness Book of World Records.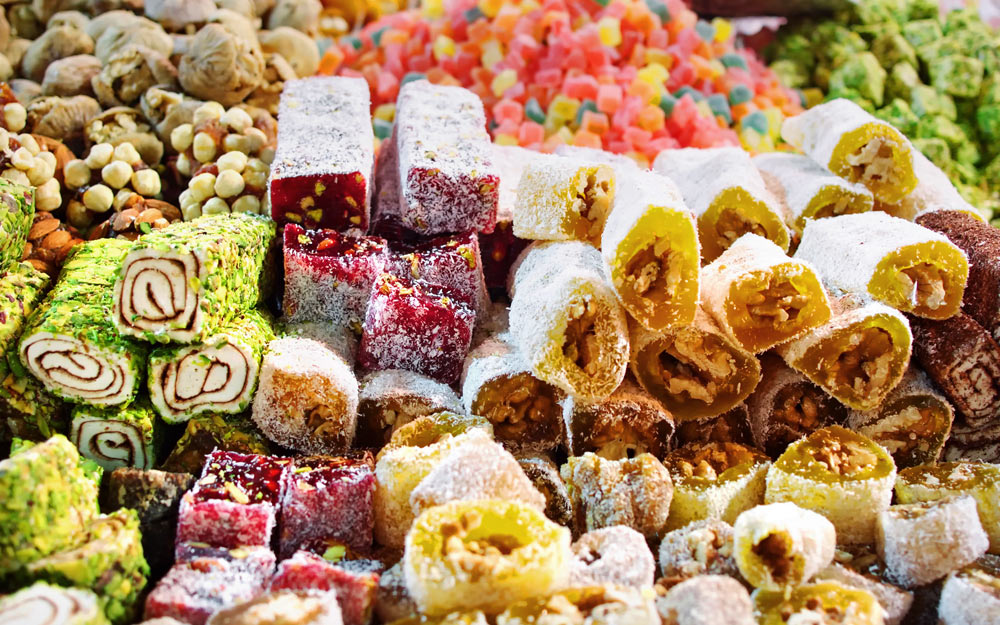 In Geroskipou there are many shops where you can taste and buy lokum. Also we recommend you to take a closer look at other traditional sweets - locus (carob) tree honey and exotic pastel Anogyras, made from the locus tree beans honey according to old recipe. Additionally, in the local shops you can buy:
halava;
candied fruits;
sugared peanuts;
pastille.
All these sweets are organic and very tasty.
You can buy as many sweets as you want, and even more - our taxi in Paphos is always ready to take you and your bags full of delicacies back to your apartment.
You can book Cyprus taxi in any city using one of these convenient options:
Visit our website, choose the car you'd like to book and click orange BOOK button.
Call us: +357 24 02 0131
Use on-line messenger on our website.
Send us an e-mail to:

[email protected]

and specify your preferred route, date and time, and number of passengers.
Request a call back via our website.
Don't hesitate to contact us, our multilanguage team is always ready to help!
Yours faithfully,
CYPRUS24.TAXI Team